Changing the Default Playback Device on Windows 7 (with less clicking)
I use speakers to listen to music while I work during the day, and a headset to play a little Battlefield 3 in the evening. I've been looking to an alternative to opening up the playback devices control panel every time I make the switch. I found that Dave Amenta had done all the hard work of uncovering the undocumented APIs and writing a console application. I did make a couple changes to his code so that the default playback device would be applied across all roles. Here's the modified code.
Download the above and drop Release\EndPointController.exe somewhere on your %PATH% (I chose C:\Windows\System32) and run it from a command prompt. It'll give you a list of devices and their IDs, remember the IDs for the devices you want shortcuts to.
Right-click and drag EndPointController.exe to your desktop and select Create Shortcuts Here. Right-click the shortcut and choose properties and add a space and the device ID to the end of the Target. You can change the icon as well (Grab audio device icons from %SystemRoot%\system32\mmres.dll). You might as well change Run: to Minimized so the console window doesn't flash when you run the shortcut.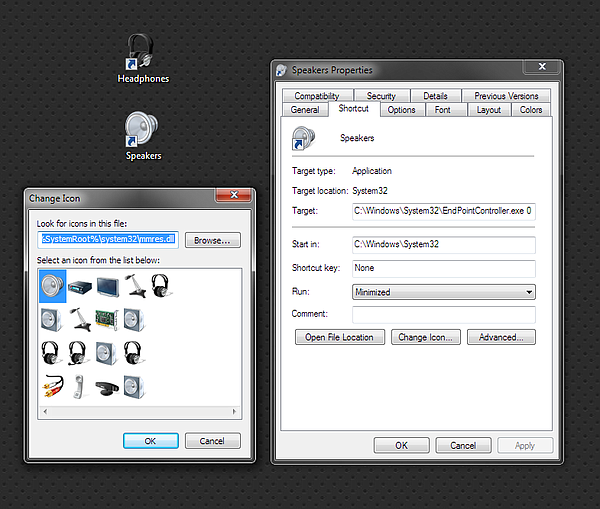 I've also set up AutoHotKey (download AutoHotkey_L, not Basic) to change devices with a keyboard shortcut:
; Cycle through playback devices with Ctrl+Alt+S
^!s::
if not TotalEndPoints {
    TotalEndPoints = 0
    RunWait, %comspec% /c EndPointController > %A_Temp%\endpoints.txt,, Hide
    Loop, Read, %A_Temp%\endpoints.txt
        TotalEndPoints++
    FileDelete, %A_Temp%\endpoints.txt
}
CurrentEndPoint++
CurrentEndPoint := Mod(CurrentEndPoint, TotalEndPoints)
RunWait, %comspec% /c EndPointController %CurrentEndPoint% ,, Hide
return

; Switch to playback device 0 with Ctrl+Alt+0
^!0::
RunWait, %comspec% /c EndPointController 0 ,, Hide
return

; Switch to playback device 1 with Ctrl+Alt+2
^!1::
RunWait, %comspec% /c EndPointController 1 ,, Hide
return

; Switch to playback device 2 with Ctrl+Alt+2
^!2::
RunWait, %comspec% /c EndPointController 2 ,, Hide
return